Top 5 Brands That Have Started Accepting Payment In CryptoCurrency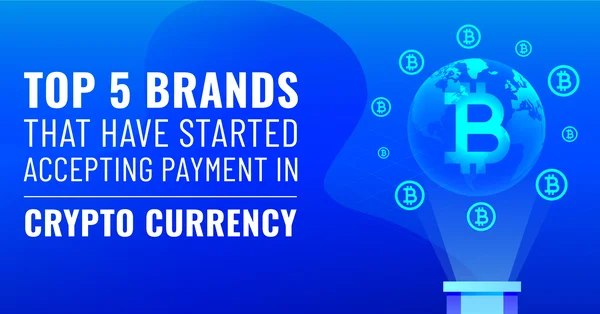 Introduction
Businesses, these days, are taking a leap from the traditional methods of doing business. With shops turned online, people have also explored the horizons of innovation. The cryptocurrency payment gateway is one such innovation that has attracted several businesses. From tech giants to worldwide popular fast-food chains, many businesses are allowing their customers to make payments in cryptocurrency. Why? Well, let's just say that the number of benefits has certainly overpowered the hesitation towards making crypto customary for a payment option.
In this blog, you are going to have a look at some of the giant businesses that have been using the Binance payment gateway and BitPay payment gateway to support their crypto transactions. These highly sound crypto payment providers have allowed businesses to attain a competitive edge for their business. The growing rate of crypto adoption in businesses further shows how easily and quickly it will become part of the digital payment world. Now, let's take a look at the wise giants.
1.Microsoft
Microsoft has always been counted among the visionaries. The company began accepting Bitcoin payments in 2014. Mostly, the customers were able to buy products like apps and games, along with other digital content compatible with platforms including Xbox and Windows Phone. It was a bold step as in 2014, and people were not much aware of Bitcoin even though the ones who were aware were not big fans following all the controversies and ethical ideology.
Besides that, 2014 was certainly terrible for Bitcoin as the leading Bitcoin exchange, Mt. Gox, went under the spiral of bankruptcy due to hacks, frauds, and many other incidents that incurred the loss of millions of dollars worth of Bitcoin tokens. In New York, there were a few car services along with a bar that accepted Bitcoin until the Giant Microsoft came into the competition itself. The company currently uses the BitPay payment gateway to facilitate transactions.
2.Mastercard
In November 2021, the credit card giant Mastercard announced accepting crypto payments through its partners on the network. The partners are allowed to use a crypto payment processor to enable their customers to buy, sell and even hold crypto tokens. They can do all these transactions via digital wallets while pursuing loyalty programs with cryptocurrency rewards.
This move will further enable the customers to gain and spend cryptocurrency rewards rather than using the loyalty points. The new set of crypto services will be provided in partnership with Bakkt Holdings Inc. It is a digital assets platform established in 2018 to cater for the services of crypto payment providers.
3.Shopify
Shopify is one of the popular names in the eCommerce world. The platform enables its merchants to establish their online shops and get the ideal features like eBay and Amazon, along with other online store options. The platform has the BitPay payment gateway that allows payments through Bitcoin tokens. The Shopify site is not compatible enough to use Bitcoin payments following the SaaS algorithm, which is designed in a way that it doesn't accept or support such cryptocurrencies.
4.Starbucks
Starbucks is the leading fast-food giant that joined the Bitcoin regime in March 2020. However, the company did not completely go for it. So, as a customer, you may not be able to buy your Cappuccino through a Bitcoin on the register. However, you are allowed to add Bitcoin and several other things within the balances of the gift card along with frequent flyer miles to the app of Starbucks and then pursue your payments. The crypto payment provider, in this case, was also Bakkt, which allows the business to transform Bitcoin into dollars in an instant.
5.Travala
The travel company was founded in 2017 as a blockchain-based travel site. The company has a crypto payment processor that perfectly complements its debit and credit card payment options. Their cryptocurrency payment gateway allows customers to make payments for tours, hotel bookings, activities, and flights. The company has also partnered with Expedia, one of the leading travel businesses in the world. So, customers are now allowed to make bookings for 7,00,000 hotels in 30 different cryptocurrencies.
What Makes Businesses Accept Crypto Tokens As Payments?
Now, there are several reasons why using a cryptocurrency payment gateway is becoming a norm in society. Using the decentralized crypto tokens not just caters for transparency but adds efficiency and cost-efficacy to the business. Here are some key aspects of using crypto tokens for business payments.
◆ Cost-efficacy: Businesses using either the BitPay payment gateway or the Binance payment gateway have the edge as they can avoid the cost involved with fiat and debit/credit card payments. Such costs involve administration and running costs, which can be easily mitigated through the use of blockchain technologies. The technology averts the role of the third party and related costs. Moreover, crypto payment providers also help you avoid foreign exchange costs as, unlike fiat currency, the digital tokens are not connected to any country and hence, do not involve any handling or exchange fee. So, businesses can gain better profits from any place in the world.
◆ Quick: Cryptocurrency payment gateway uses the top-notch technology that keeps the businesses or merchants one step ahead in the global market. The crypto payment providers have also introduced cross-border payment solutions that allow business expansion at ease. If you compare it to fiat or other traditional modes of payments, the transactions are highly dependent on middlemen's activities. Crypto makes it easy and hence reduces the intermediaries to further allow transactions to take place with a click.
◆ Safety: Using blockchain technology has extensive benefits. Using a crypto payment processor, a company can make sure that they are safe from chargeback frauds. It happens as the crypto transactions are irreversible. Chargeback frauds take place as the centralized transactions can reverse transactions, which customers can use of asking refunds even after the product has been received. Binance payment gateway can help you avoid such situations and get your payments on the right track.
Conclusion
So, that was all about the top 5 companies using a crypto payment gateway for their digital currency transactions. In this transforming world and its pace, using crypto tokens for your business transactions would be a revolutionary choice. Get your hands on the best crypto payment processor for futuristic payments.