How eCommerce Brands Benefit from Crypto Payment Gateways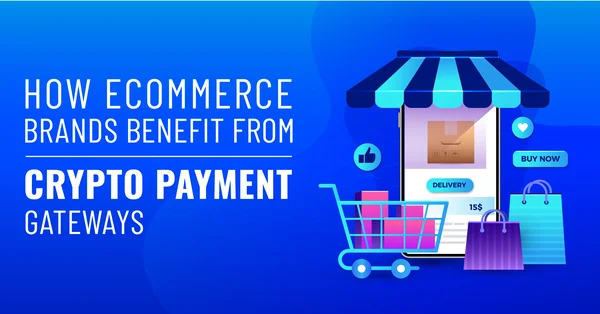 Introduction
Did you know that about 4% of all online consumers hold one form of digital currency or another?
Also, did you know that nearly 18,000 global eCommerce brands accept payment in a variety of cryptocurrency?  
What's more, industry observers predict that the number of crypto currency holders and online retail outlets accepting payment in digital currency will steadily increase. The anticipated upward trend will place a greater demand on the services of cryptocurrency payment gateways in helping eCommerce sites process all crypto payments by their customers. In this post, we will highlight those key benefits that online stores can gain from crypto payment processors in today's world.
Top eCommerce Brands accept Crypto Payment
Online stores offer their customers different payment options. In the past, these e-stores relied heavily on traditional banking systems for the processing of online payments. It must be said that popular payment options like Visa, MasterCard debit or credit cards, bank transfers, and e-payment platforms, such as; Skrill and PayPal are still widely in use by most retail stores.
However, the rise in the number of people that actually hold crypto on a global scale has led to many retailers giving some serious thought to how they conduct business in both the short and long-term. To this end, many e-businesses have now included a cryptocurrency payment option to their list of payment methods on their sites.
Microsoft was one of the most prominent companies to see the benefit in tapping into the growing crypto industry and started accepting payment in crypto when they began doing so 8 years ago in 2014. They started by accepting BTC for Xbox in-store purchase. Other reputable companies will soon follow suit around the world with AT&T, Etsy, Shopify, Overstock.com, Lush, Whole Foods, and many others accepting digital currency payments for their goods and services.
Top brands like Microsoft blazed the trail for others to follow, as they instilled confidence in not just cryptocurrency, but also in the crypto payment system.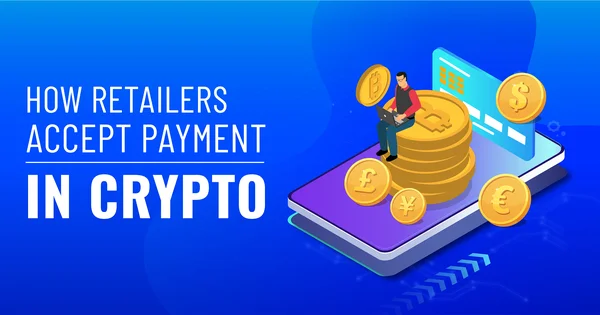 How Retailers Accept Payment in Crypto
Retailers accept crypto payment through a crypto accepting payment processor. The prices of the products and/or services offered by retailers will initially be seen by customers in fiat, typically, USD, AUD, EURO, CAD, and so on. However, whenever customers select the cryptocurrency payment option, they will be able to view the amount due for payment in cryptocurrency.
All payment transactions are processed safely and securely through a cryptocurrency payment gateway. This payment transaction is also permanently recorded via the decentralized blockchain ledger which helps both retailers and their customers in keeping records of all transactions over a long period of time which sure beats having to sort out paper receipts.  
H2: Benefits of Crypto Payment Gateways to eCommerce Sites
Retailers can benefit from using crypto payment gateways in processing the digital currency payments made by their customers in the following ways:
#1. Record Keeping:
As already stated, all digital currency transactions take place in the blockchain which is a decentralized hub for storing crypto payment transaction records on a permanent basis for future reference. There would be no need for cumbersome paperwork involving invoicing and receipts like in the old days.
With blockchain technology, users would be able to store digital currency and also share crypto safely, securely, and transparently. As customers make payment in crypto, the entry will be published in the decentralized ledger.
The blockchain network of computers or nodes will carry out checks to ascertain that the digital currency data is fresh and not previously spent which then prevents any act of fraud in the transaction. Every recorded transaction on the blockchain is incorruptible. Also, transaction entries cannot be altered or deleted.
#2. New Market Opportunities:
The use of crypto payment gateways opens new market opportunities to retailers. Retailers may be able to establish themselves in regions of the world where a high population of consumers do not have a traditional bank account.
In many parts of the Middle East and Southeast Asia, you have a large number of people that prefer holding crypto because of the less stringent need for account verification as can be seen with conventional financial institutions and banks.
These individuals prefer paying for goods and services with digital currency as it is really a straightforward process devoid of banking hassles. By providing crypto payment options, eCommerce platforms can make themselves attractive to consumers in these parts of the world and in effect increase their profit margins.  
#3. Zero Chargeback Guaranteed:
eCommerce sites will not experience any type of chargeback when they adopt a crypto payment option. This is great news to retailers wishing to save the time and effort needed to resolve chargeback issues. In addition, digital currency payment gateways help e-stores to avoid unnecessary loss in revenue due to chargebacks.
#4. Very Low Transaction Fees:
The transaction fees for cryptocurrency payment is extremely low. Some crypto payment gateways charge fees as low as 1% of the total value of the transaction. Also, payments made by customers are held in escrow up until the transaction process is confirmed by the buyer and seller of commodities.
Subsequently, the crypto payment transaction is then permanently recorded in the decentralized ledger for posterity.
#5. Increased Margins:
New market opportunities lead to increased sales and profit margins. With extra money available to retailers, the potential for growth and expansion also become a reality. Retailers can decide to diversify their business to suit the needs of the new market demands. All this is made possible by the adoption of a crypto payment option which leads to revenue figures experiencing an upward trajectory.
In Conclusion
The eCommerce terrain is changing quickly in line with technological advancements in online payment. The blockchain has made it possible for retailers to accept digital currencies as crypto payment gateways offer payment processing capabilities that are secure, corruption-proof, and cost effective.
eCommerce businesses can now benefit from the zero chargebacks, new market opportunities, increased revenue, low transaction fees, and perfect record keeping that the blockchain driven cryptocurrency payment option offers.