Considering Accepting Cryptocurrency? What to Consider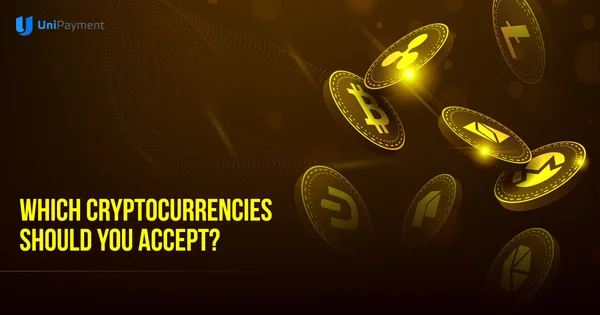 Cryptocurrency might not be quite mainstream today. However, a growing number of companies are now accepting crypto as payment.
So, the question is, should you do it with your business as well? Well, the answer greatly varies on the goals of your business and what you plan on doing with your digital currencies.
Compared to debit cards and credit card payments, crypto is considered more secure. The reason for this is that they don't require 3rd-party verification.
Whenever a client pays with crypto, their information is not stored in a centralized hub where breaches can happen. Instead, their data is stored in their crypto wallet.
In addition to that, the blockchain ledger is utilized to record and verify all transactions. This makes it hard to steal the identity of a person.
Why Should You Think About Accepting Crypto Payments?
Businesses that accept cryptocurrencies can use that approach to establish their distinct brand identity.
This type of payment is still fresh and unique. Thus, it's easy to build a reputation in this ecosystem.
You can attract a good deal of attention from media sources and clients that follow your niche if your business starts to accept cryptocurrencies.
Cryptocurrencies are one of the few digitally convenient payment processing options available to vendors and clients.
Now that you know the benefit of accepting cryptocurrency payments, you're probably wondering how to accept bitcoin payments. Well, here are several things to consider first.
Should You Use Payment Tools?
When it comes to cryptocurrencies, peer-to-peer transactions are a vital part. To make things simple, you do not require a 3rd-party to process the transaction.
This is perhaps the cheapest approach. You can send and receive cryptocurrencies for free.
However, creating a payment workflow is a tedious task that requires technological knowledge. Fortunately, there are 3rd-party payment tools that address these needs, such as Unipayment.
These 3rd-parties offer businesses a way to quickly start accepting cryptocurrency payments. You will probably have to submit details about your business in an application.
If you wish to convert crypto to cash via the service provider, you will have to provide more details.
These services aren't replacements for payment processors. They don't process card payments. You will need both if you want to accept cryptocurrency and card payments.
Which Cryptocurrencies Should You Accept?
There are tons of cryptocurrencies out there. However, not all of them are accepted on all gateways. In general, Bitcoin is supported almost everywhere since it's the most popular.
One question that some vendors commonly ask is how to accept USDT payment. Well, you'll have to look for a crypto payment gateway that accepts it.
Fortunately, you don't have to look harder because Unipayment can help you. They accept all kinds of cryptocurrency, from Stable Coins to Popular Coins.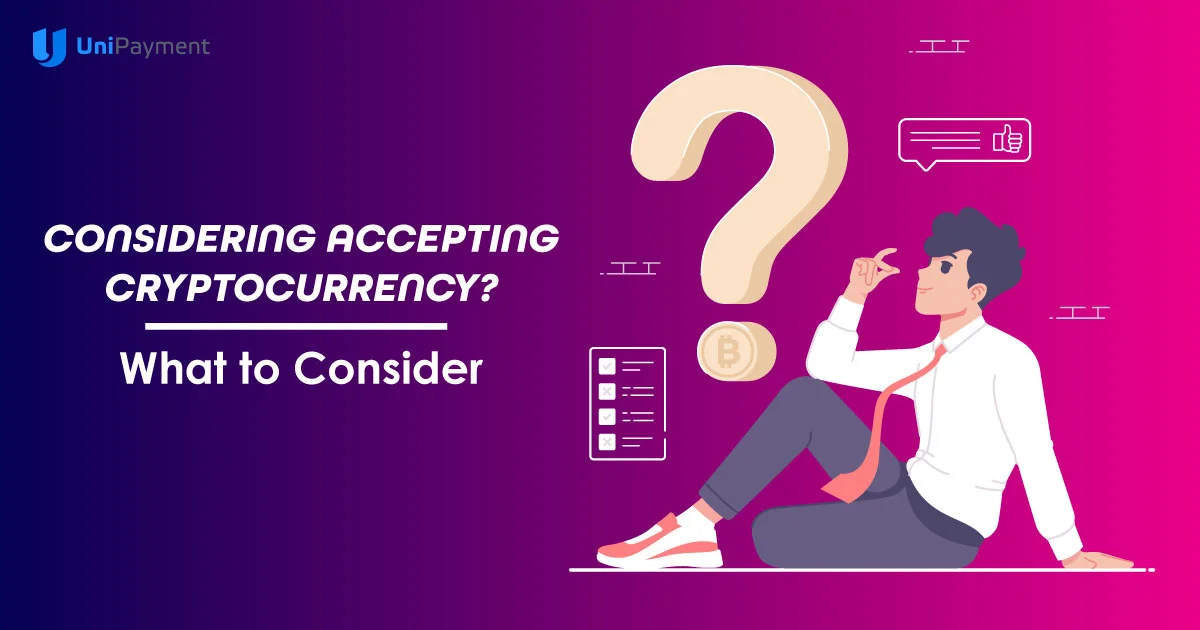 Are There Accounting and Tax Issues To Consider?
If you're planning to accept crypto payments, it is a wise move to talk to your bookkeeper or accountant.
First of all, you need to be wary of the tax implications. This is particularly true if you plan on holding on to any crypto you get.
Next, consider how data from your POS system gets to your accountant. For instance, if you depend on a cloud-based system, you will want to know if you can incorporate your crypto payment gateway with it.
Not All Cryptocurrencies Are The Same
Digital currencies have been around since the 1990s. Today, there are more than 10,000 different cryptocurrencies in the market.
Defining an asset as money isn't essentially black and white. However, money has the characteristics of a medium of exchange, a unit of account, and a store of value.
The most well-known and biggest crypto today is Bitcoin. However, others include Litecoin, Dogecoin, Ethereum, and more.
Keep in mind that a lot of cryptocurrencies have tiny user bases. Because of this, they might not become a prevalent tender for transactions.
Almost every business will probably accept only those currencies with big established user bases.
How And When To Convert To Cash
This can have major implications for your business. The reason for this is that major price swings mean the value of your crypto can fall or rise in a short period.
Are you planning to hold on to whatever crypto you get forever? Will you convert it on a scheduled basis? Will you convert it to cash right away?
Asking questions such as "how to pay with bitcoin" are important if you depend on consistent cash flow for your operations.
Once you've got a plan, you've got to ensure your crypto payment gateway can implement it. With Unipayment, you can convert your cryptocurrency to cash quickly and easily.
Accepting Crypto Is Still Very Risky
Cryptocurrency enthusiasts love that this currency is considered immune from inflation. Governments cannot manipulate the value of crypto. This can be a benefit and a risk.
Crypto is a hedge against monetary inflation. However, the value of crypto is very volatile. In a 3-month span, the volatility of Bitcoin reached almost 8%.
For a lot of business owners, this level of uncertainty makes cryptocurrency extremely risky.
Should You Accept Cryptocurrencies For Payments?
There is a major gap between the number of people interested in paying crypto and those who have paid with crypto.
This suggests that there's untapped potential for crypto payments. To help you make a decision, there are a couple of questions you should ask yourself.
Do you know how to pay with Eth?
Have you established a strong outreach plan with social media to allow clients to know you're now accepting crypto?
Can you clearly and confidently reassure your clients that their purchases are more secure both in-store and online?
Do your clients fit the demographics driving crypto adoption?
Conclusion
Whether or not crypto will become more prevalent in client transactions will probably vary both on the regulatory environment and market performance.
However, if you want to start accepting cryptocurrency for your business, you can make your life a lot easier with Unipayment.
Unipayment is a crypto payment gateway that enables your business to accept any type of cryptocurrency. The transaction is fast and easy as well.