Crypto Payments: A one step ahead by Gucci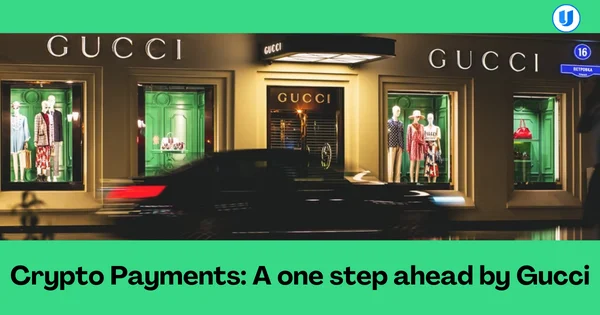 Introduction
Gucci, the luxury fashion house, has decided to make its way into crypto as some of its U.S. stores have started accepting cryptocurrency by the end of May. L.A., Miami, Las Vegas, and New York are some of the cities where Gucci's outlet stores are present, and crypto will be accepted for the pilot projects only in these marked locations. Those customers opting for crypto payments will be able to pay using their crypto wallets. They will receive a link through an email containing a Q.R. code. After scanning the Q.R. code, they will be able to make the payment.
"Gucci is a digital-first luxury brand, and this is the next phase of the company's Web 3.0 journey," says the brand in the press release shared with CNN. Customers will have easy access to paying through several crypto payment processors. According to a Reuters report, there are other different brands that have dipped their toes into the world of cryptocurrency and have started allowing blockchain payments through crypto payment processors. Gucci has already tapped into the market of crypto in the month of March. It debuted the Gucci vault representing Gucci's presence in the metaverse. Their sole purpose was to sell digital assets alongside real-life clothing.
Marco Bizzarri, CEO and president of Gucci, said in a statement to Vogue business that Gucci is ready to embrace new technologies when they have the capability to provide an advanced experience for our customers. We will avail more customers after allowing them to blockchain payment with our system. Gucci has shaken hands with another luxe fashion label, off-white, and Philipp Plein, the designer in accepting crypto payments both online and in offline stores. Gucci has also made its way into NFTs and metaverse gaming after they have sold a digital version of an iconic Gucci bag on Roblox more than the physical edition. Gucci has always been found experimenting with upcoming and trending technologies, and therefore, this move made by the brand to enter the crypto market is not so surprising for the tech-focused markets.
Gucci allowed crypto payment processors.
For a long, the brand has been experimenting with adopting new and better technologies to embrace its services, and therefore, it has jumped over to new realities of the market, including NFTs, metaverses, and digital currencies. It has announced to commence operating a pilot program that will allow ten different digital currencies in the United States later this month.
Cryptocurrency is leading the online markets in this highly technical and digital world. They have entered and allowed large brands to make payments through crypto payments processors. Gucci, an Italian high-end luxury fashion house based in Florence, Italy, has recently started accepting crypto and blockchain payments for the customers on buying its products which is a big relief to rich people who frequently invest in big crypto companies.
According to the Reuters report, some flagship Gucci stores have already allowed crypto payments at the beginning of this month on the sale of the brand's products, including Rodeo Drive in Los Angeles and Wooster Street in New York.
Digital assets will also be accepted now by Gucci for the purchase and sale of its products. For now, it is only limited to online stores but soon will lead to other outlets too in the remaining countries.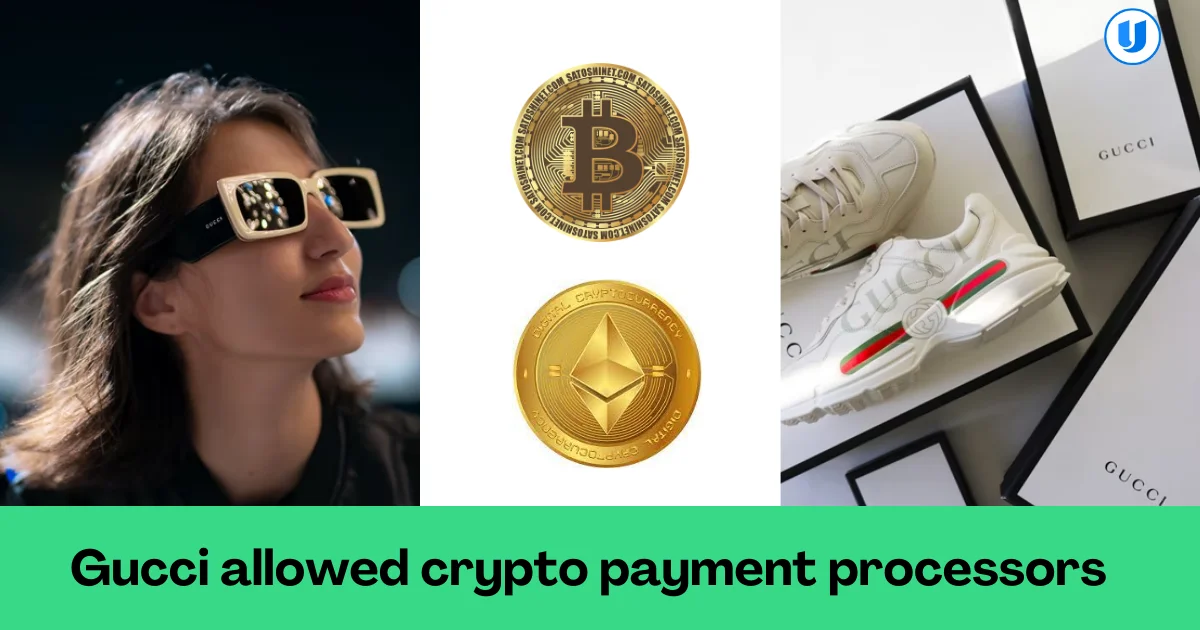 Gucci launches cryptocurrency for online and offline stores.
This is after Gucci has made its way with metaverse gaming and NFTs who promoted Gucci products digitally more than the physical distribution. The brand has also entered the crypto market and has allowed crypto payments in online stores. The brand has decided to directly operate in its stores situated in North America in the near future before rolling to all its stores. In this world of high technology, digital currency is widely accepted by customers and even big brands.
The NFT collection was built right before the "Supergucci", who were partners with Gucci and SUPERPLASTIC, animated celebrities' entertainment brand. The first collection of 10 NFTs was dropped in the month of February at Gucci Vault. Ten different scenarios were featured, along with the SuperJanky figures from SUPERPLASTIC. All the designs were inspired by Gucci Aria, says Gucci Vault.
Singapore fashion retailer Charles & Keith, along with Gucci, has launched blockchain payments in their business and have expanded in the eCommerce sites two months earlier. The launch was made ahead of the brands' involvement in a 3D virtual world browser-based platform known as Metaverse fashion week. This was hosted on Decentraland. Singapore, the U.S., Australia, Canada, Malaysia, U.K. are some selected countries in the world that led the initiative to roll the brand's strike into the digital currency. This was marked according to Chares & Keith.
Crypto Payments and Gucci
Some parts of the country, including New York, Los Angeles, Miami, Atlanta, and Las Vegas, have invented a new payment system in the Gucci stores by accepting ten digital currencies that are famous all over the world. Customers will be able to make payments through five stablecoins other than ten digital currency to purchase Gucci merchandise from the outlets and online stores. Refunds on these purchases will be made through cryptocurrency instead of fiat currency.
Now it's a big question for buyers that will it be possible for them to shift or change the values of the purchase made in cryptocurrencies? Gucci's strategy with the volatility of crypto is left yet to be revealed by the brand. But the brand has accepted its interest in digital assets and inventories and has revealed its new purchasing method with crypto starting from the beginning of this month.
Crypto: Future of the world of payment
Gucci being a world-renowned brand has accepted crypto as their future payment, and it is sure that other leading brands and companies will surely take a step in the right direction and accept crypto for the purchase made on their products. If this move made by Gucci becomes successful, then it will not take long for crypto and big brands to come together and start a new way of payments and purchase all over the world. Gucci has stepped forward in offering other luxury brands in some non-fungible token projects and is ready to step into the blockchain real-estate platform.
If Gucci has made its way in this race of crypto going all around the world, then soon, other brands will also follow suit and involve cryptocurrency in their payment system. After more and more use of this payment method, it will become more desirable for buyers as well as sellers. The world is becoming more advanced in upgrading technologies and payment methods in the world.
Gucci has added value to the brand by accepting crypto as their new payment and purchasing method in this new advanced era of technologies. Gucci's Metaverse efforts have made sure that the luxury brand will persist in the digital future we're entering. The value of accepted tokens is sure to surge if the crypto coins get widely accepted throughout the world.