Ukraine Crypto Donations: a comprehensive guide with updates so far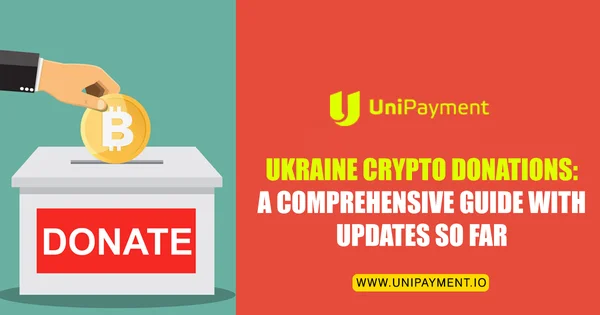 Introduction
Amidst the Russia-Ukraine crisis, with unending violence and suffering inflicted upon the people, even a small act of humanity can bring about a difference, a much-needed change. Keeping this in mind, Ukrainian organizations such as The Red Cross, Vostok SOS, and the World Central Kitchen raise funds to provide necessities like food, water, emergency supply kits, and temporary shelter to the refugees. Their efforts are not in vain. However, donations traditionally take a lot of time to process as banks and/or governmental authorities are involved. To do away with the intermediaries and the amount of processing time required, Ukraine sought the most efficient and the fastest way to receive donations - Crypto Donations.
This tech-savvy country realized how donations in crypto are way more reliable and helpful for managing huge international donations. In a humanitarian crisis such as this, Ukraine is setting up an example of how to master technology to fight for peace and humanity and survive. As a matter of fact, in the year 2021, Ukraine was ranked fourth on the Global Crypto Index 2021. Fortunately, Ukraine has received positive responses from the global crypto community in this time of need, which has attempted to support more than 2.5 million Ukrainian refugees.
Crypto Donations to Ukraine
Deputy Minister Alex Bornyakov at the Ministry of Digital Transformation, Ukraine, claimed how Kuna, i.e., the Crypto Exchange in the country received approximately 100 million dollars in crypto donations from around the world since February 26, proving how cryptocurrencies can play a massive role in times of war from an economic as well as social point of view. The funds from Kuna have been released for sending soldier vests, food, medical supplies, fuel, and other necessities.
To invite more and more donations in cryptocurrency, the Ukrainian government launched an exclusive website for ease and accessibility of donors around the world. The website is a collaboration of mainly three authorities - the Ministry of Digital Transformation, Ukraine, FTX (cryptocurrency exchange), and Everstake, a blockchain tech service. FTX converts these donations in crypto into fiat currency. There are many routes, apart from the government, through which these donations have been received by the country. Some of these are:
Kuna - Over 60% of the donated cryptos have taken this route, i.e. Kuna, to the government that, in turn, has used the funds to purchase military supplies like body armour. Michael Chobanian, who is the founder of the exchange Kuna, is presently running the "Crypto Fund for Ukraine". Also, the government has converted some of the donations into fiat currencies.
UkraineDAO - This platform is a collaboration of three private avenues, which are Trippy Labs, Pusy Riot and PLeasrDAO. UkraineDAO is collecting donations for the army and their supplies. At one point, it collected close to 7 million dollars (converted Ethereum) for an NFT, i.e. non-fungible token.
NGOs like the Unchain Fund and Come Back Alive - Besides the governmental route and the private collaborations, Ukrainian NGOs have also been doing their bit. Unchain Fund is one such project. It is founded by a group of blockchain tech activists collecting donations from around the world to help the people in the country. As a matter of fact, it raised around 2 million dollars within five days. Until now, it has raised $9,655,113, as verified by Crowe, an international audit company.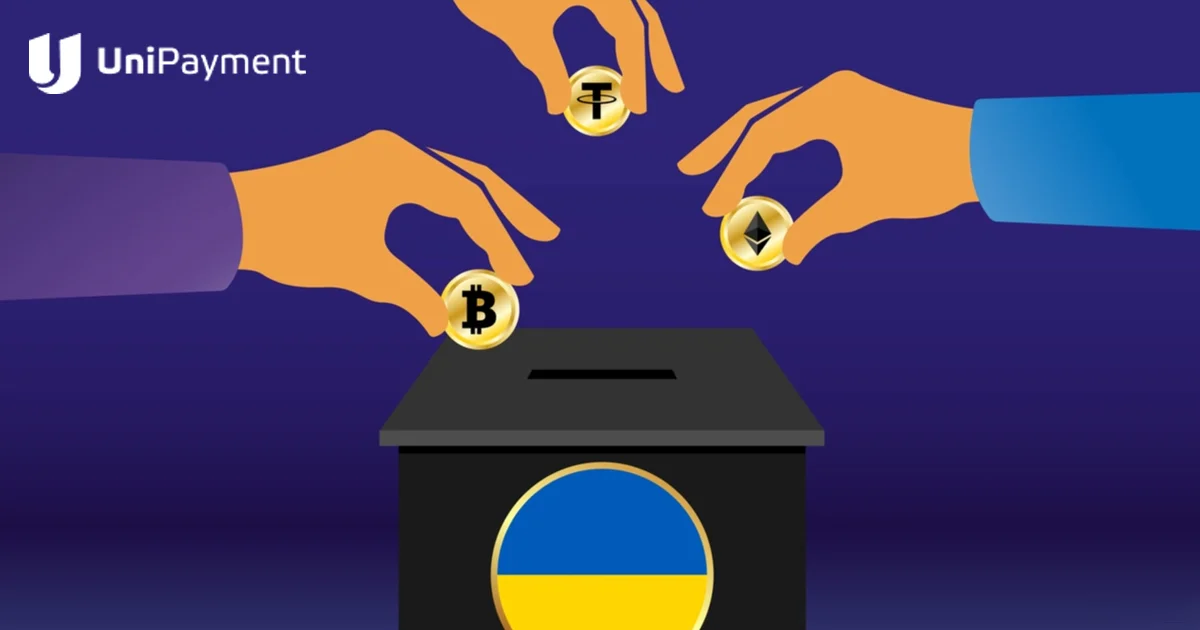 Medium to Donate Crypto
If you are willing to donate crypto to Ukraine and help make a difference in these times of violence, war, and brutality, there are some points to consider. The following paragraphs describe how to make crypto donations to Ukraine.
The safest route is donating to the Ukrainian government itself. But the question arises, "Is it legitimate?" There is nothing to worry about as the funds are going into the right hands. The Ukrainian government's official Twitter account has posted two of their cryptocurrency wallet addresses via a tweet which is Bitcoin and Ethereum wallet addresses. Moreover, the same addresses have been tweeted by the Ukrainian Vice Prime Minister Mykhailo Fedorov as well from his verified and official account. The government is also accepting donations in Polkadot as well as USDT. In order to make a crypto donation, all one needs to do is have a cryptocurrency wallet along with a public key address for sending a transaction. A donor should enter the wallet address (Bitcoin or Ethereum wallet address as tweeted by the government) to make the crypto donation and then enter the amount of the donation. Donors should ensure that the address is correct, and thus, they should check it twice before sending their bit. Also, they can check by donating a small amount at first to know that the address is correct. After verifying, the donor should click on the 'Send' option. The number of transaction fees and time is taken will totally depend upon the crypto payment gateway used.
Apart from the government, certain NGOs and charity organizations have been receiving crypto donations too. As mentioned earlier, groups like Ukraine DAO or Kyiv Independent, which is an English Ukrainian newspaper waging war via tweets, are raising cryptocurrency funds directly through their websites. Donors have to follow a similar process - copying the wallet address or scanning the QR code - to make a crypto donation. Since the Ukrainian government is also receiving NFTs, projects like 'Artists for Peace' have been initiated that have raised around $354,000 (121 ETH). There are certainly other ways to donate to the humanitarian cause. Some specifically - targeted organizations, such as Voices of Children, Sunflower of Peace, Nova Ukraine, etc., have also included crypto donations besides the standard alternatives to donating.
Benefits of Donating in Crypto
There are several advantages of making and getting donations in crypto. Some of these are as follows:
Not influenced geopolitically or macro-economically - Such donations via any crypto payment gateway are less affected by geographical, political, and/or macroeconomic considerations.
Speed of transactions - These donations are processed in lesser time than bank transfers between nations. Bank transactions take up to 1 day to be completely processed.
Attracting more donors - Ukraine has taken advantage of more number of younger donors who majorly constitute the global crypto community.
Alternative to the banking system - Due to the Russian invasion, the banking system of Ukraine is constantly threatened. Thus, these donations have become robust financial support for the refugees.
There are many other benefits of donating in cryptocurrencies to both the donor as well as the Ukrainian government. In this time of dire need, cryptocurrencies have brought hope to all the refugees struggling for basic amenities and for life itself.