How to accept crypto payments on Shopify?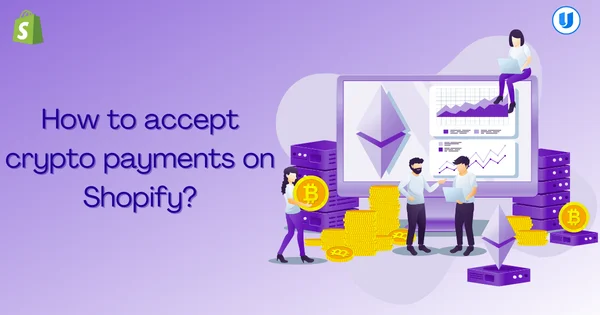 Shopify offers one of the fastest and latest mediums of making transactions: crypto payments. Therefore, Shopify worked with different companies to form a collaboration in 2020. The main aim of this collaboration was to induce the process of providing crypto payments for the Shopify vendors. The platform offers more than 1800 cryptocurrency options for making online payments. This wide range of compatibility motivates the vendors to indulge with a new customer base interested in paying with cryptocurrency mediums.
According to a report by Statista, global eCommerce sales will reach a milestone of around 5.69 trillion in future years. That's why adding a feature of crypto payments in the Shopify interface is prudent. Not only will this help Shopify, but it will also allow the vendors to expand their customer base. Also, it is a great move to combat the increasing competition in the industry by upgrading your means of accepting payments. However, this feature offers tremendous scope for development and business expansion as a vendor. But before going to that aspect, a vendor needs to understand how they can accept crypto payments on Shopify. So in this blog, we will discuss crypto payments on Shopify.
Why should you accept Crypto Payments on Shopify?
Many people regard crypto payments as the alternative to conventional payment forms. However, it is not entirely true. Crypto payments offer much more convenience than regular fiat payments. They are faster, more transparent, and have better efficiency. Therefore, businesses are advised to accept crypto payments on their Shopify platforms. Here, we are discussing a few worth mentioning advantages that your business will witness if you integrate a crypto payment gateway to accept crypto payments on Shopify.
Expansion of customer base
When you initiate to accept crypto payments on Shopify business, you tap into a more extensive customer base. Crypto payments are decentralized, meaning they have no limitations of geography or borders. A crypto transaction doesn't need to go through various exchange barriers of nationalities. Also, there is no requirement for involvement on behalf of financial institutions such as banks. The crypto payments are made with zero involvement of conventional financial intermediaries.
This more extensive reach of crypto blockchain payments enables the vendors to accept orders from remote regions with a faster processing time. In addition, they can target a wide range of customer base, which is impossible to do from conventional forms of payments on Shopify.
Low transaction fees
The crypto transactions on Shopify do not need verification from a third-party financial institution. As a result, the transaction fees become low. Crypto blockchain payments only charge a gas fee which is for executing the transactions. This gas fee can vary as per the crypto payment processor that you are using. However, in any case, it is still very low compared to conventional fiat charge fees.
Less number of chargebacks
The blockchain payment method of crypto payment processors offers an irreversible form of transaction. Once the transaction is made, it is not reversed back till the merchant chooses so. This feature is not provided in credit cards. This reduces the chances of chargebacks as well as online frauds.
Efficient and faster payment processing
Conventional fiat payments are not helpful when it's about faster processing time. Once the payment is made, it can take around 3 to 4 days to become visible in your account. In the case of foreign transactions, this time increases further. This scenario is especially unfavorable for small businesses where they already face a lack of cash flow frequently. With crypto payment processors, the payments are made in less time with minimum or little processing time.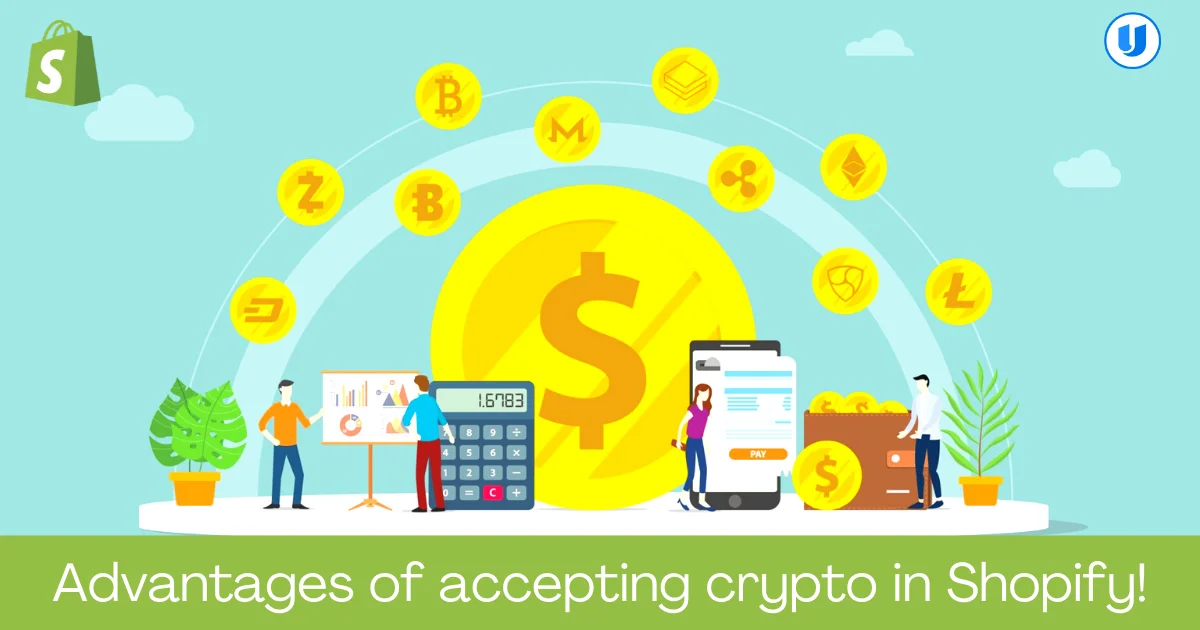 How to accept crypto payments on Shopify?
The process of accepting crypto payments on Shopify is straightforward and quick. The platform offers an integrated solution to make it easy fr the vendors. Accepting crypto payments starts by making their crypto wallet or account, followed by linking the account. Here, we are describing the steps of the complete process.
First, you need to activate your crypto wallet on any recognized platform. Then, you can open your personal crypto account or start a business account. The crypto wallet works similarly to your regular bank account. It holds your crypto balance and allows you to deposit more and manage transactions or withdrawals.
Build a payment provider page
Now you need to build your payment provider page on Shopify. You can do it by going to the admin dashboard of Shopify. After that, you need to integrate your crypto wallet address which is easily accessible to your customers.
Enable the payment method
As a next step, you will need to enable different crypto payment modes on the page. Shopify allows compatibility with different types of cryptocurrencies. So you can integrate any blockchain payment method into your account. Now you can easily accept any cryptocurrency payment. This integration of cryptocurrency payments which not alter your current payment modes in any way. Also, every crypto payment processor has its support channel. If the users face any payment query, they can directly contact the facility provider. You can also contact them to learn more about accepting and using crypto payments.
Businesses that are accepting crypto payments
Several businesses have already gone ahead in the direction of accepting crypto payments globally. Some of them are;
It is a Shopify store selling gaming products like chairs, mouse, LED headphones, etc. Roman and his Dad own the outlet. The store has started accepting several cryptocurrency payments like Bitcoin, Ethereum, Litecoin, etc.
This is the main clothes and fashion accessories line that mainly sells funky and Gen Z-inspired products. In addition, they have started accepting complete crypto payments from their clients.
It is a company started by two web developers. Both of them are pretty passionate about cryptocurrency. Their business aims to create crypto apparel for the web. Their products are inspired by crypto and symbolize the wake of a digital revolution stimulated by cryptocurrency. There are several other businesses that are focusing on integrating crypto payment processors like Love crypto.
Shopify has taken the initiative to tap into new revolutionary forms of accepting payments and executing transactions. It is not only beneficial for the merchants, but it is also a futuristic move to strengthen its position in the eCommerce platform where crypto payments will surely change the ways of shopping of people.