Russia opens up to start accepting crypto payments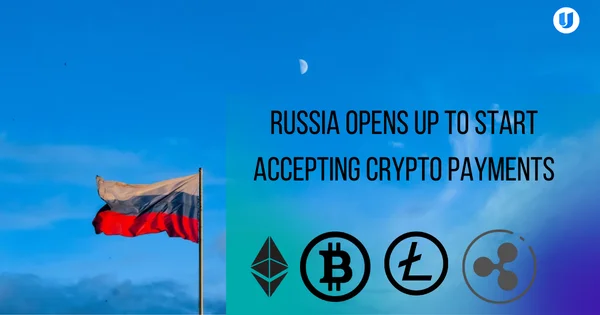 As a piece of big dawn news, Russia will soon start accepting crypto payments. Russian government officials are all set to propose a bill for accepting and executing crypto for international payments. This is being seen as a significant milestone for the crypto industry. There are several countries where crypto has made its strong position. However, very few have accepted crypto as a medium for international payments. That's why this move of Russia will bring a revolutionary change in the global cryptocurrency market. Crypto came into existence around 2009. Since then, it has seen several ups and downs. Considering the ups, the value of crypto has increased significantly since its establishment. Several cryptocurrencies like Bitcoin and Ethereum have around $39,303 and $2,907, respectively.
On the same note, Bitcoin has a value of $25,000. However, even after the market volatility, crypto has been a center of attraction for investors and finance people. Several countries are keeping a keen eye on the activities of crypto. Some of them, like China, have been banned, while others, like Belarus, have welcomed it with free hands. And then some of them, like Russia, are on their way to accepting this blockchain payment method. However, the main question arises: Why is Russia [and other countries] mulling accepting crypto for international payments. In this blog, we will decipher the motivations behind Russia's decision. Also, we discuss the possible effects on Russia for accepting crypto payments.
Crypto solely for international deals and payments in Russia
According to the reports of Reuters, the central bank of Russia is starting to accept cryptocurrencies for international payments. The first deputy governor of Russia's central bank, Ksenia Yudaeva, said that the central bank would no longer object to using cryptocurrency for executing and accepting international payments. However, he also stated that the Russian government is still not neglecting the view that cryptocurrency adds considerable risk to the transactions of the Russian people. This also brings the possibility of instability in the country's financial infrastructure. This announcement was made on Tuesday when the delegate gave his statement to Russian media.
Since then, the whole world has erupted the discussion of the possible effects of Russia's decision on the crypto industry. This move of Russia, when the country is not in a vigorous state diplomatically, has been seen as a big game-changer. It was mainly when Russia was thinking about a blanket ban on crypto payment processors just a few months back.
Currently, the legislation of Russia is working on a revised version of its digital currency law which also includes crypto payments. Therefore, when Ukraine-Russia began, the Russian Federation faced a dilemma in accepting blockchain payments.
Benefits of accepting international payments with Crypto for Russia
Here, we are stating a few possible motivations behind Russia's decision to accept crypto payments.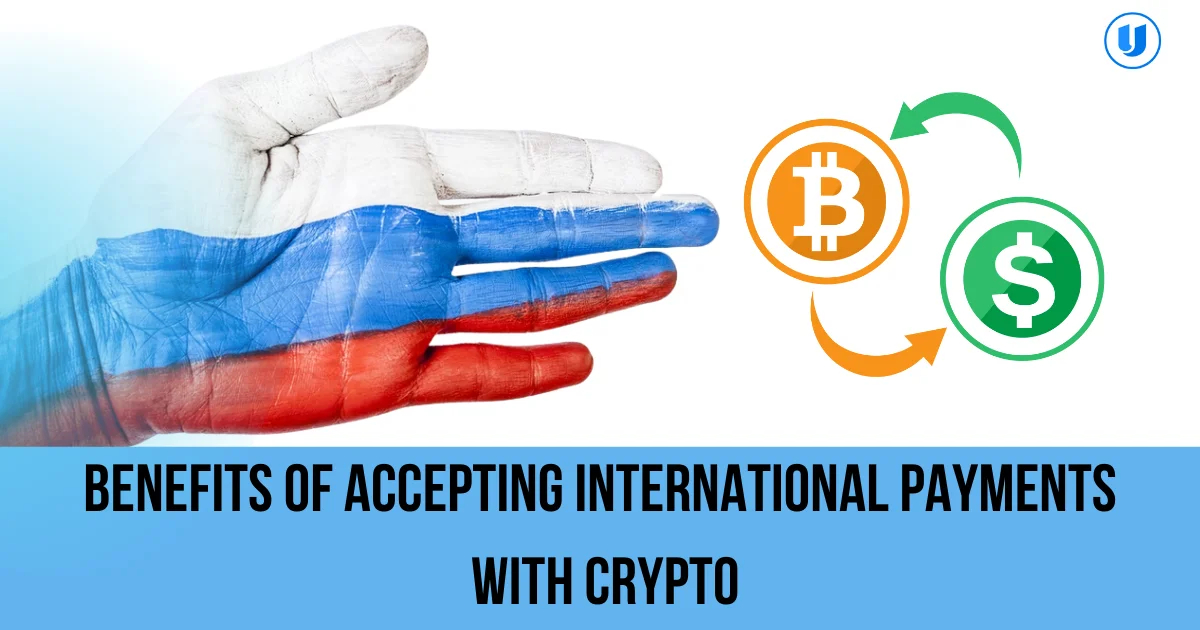 Streamlined cross-border payments
On average, the settlement time for executing the cross-border payments takes 3 to 5 business days. Also, the process needs human verification for the information provided by the sender and the receiver. Moreover, the processing speed depends on the countries' different time zones while sending and receiving the money. All these steps and processes make the international payment execution complex and time-consuming. However, the decentralized model of payments like blockchain payments siphons these time-consuming steps. On the other hand, Crypto payments enable users to send and receive payments quickly with a simple click. Therefore, if Russia starts accepting crypto payments for international interactions, it will surely enhance the efficiency of its cross-border payments.
Additional information for trade finance
The remuneration of the global trade finance gap is about $1.7 trillion. This affects the operations of SMEs. Most of them still work through processing financial records with their respective banks. However, this process can be simplified by incorporating crypto payment processors. The digital currency offers public ledgers, which are much more suitable for storing and recording the financial information regarding the transactions. This can help in underwiring the credits for import as well as export. It will reduce the need for the additional step of information collection. It will provide a simplified process structure to Russia and help in faster credit processing. Also, we can't neglect the reduced chances of errors with a better record management procedure. However, Russia must also enforce strict privacy protocols to enjoy these benefits.
Enhanced de-risking scenario
The process of de-risking gives birth to the issues of increased AML and CTF issues for the country. That's why Russia encounters high-risk factors while participating in world trade operations. As a result, the cost of transactions for senders and receivers also increases for Russia. This can discourage the buyers as well as sellers. Now, the acceptance of crypto payments can help in reducing this issue. The blockchain payment gateways will provide an alternative procedure to make transactions for the buyers and sellers. Moreover, they can quickly reconnect with the buyers and sellers of other countries through crypto payments. However, the crypto payment processor doesn't reduce the risk of AML or CTF to a more significant extent.
Conclusion
Accepting crypto payments for international payments by Russia is an excellent move for aligning its financial infrastructure with digitalization. It will help provide better efficiency and connect with more countries as buyers. The crypto payments will also offer a new way of storing information for credit underwriting. However, there are still a lot of aspects that require redressal. The increased FX risk and volatility resulting in exchange rate fluctuation create the possibility of massive loss for the country. That's why Russia needs to prepare a very detailed and inclusive form of infrastructure for accepting crypto payments internationally. However, from a diplomatic point of view, this move by Russia can be proven fruitful for the country on an international platform.