The New Crypto Ecosystems 2022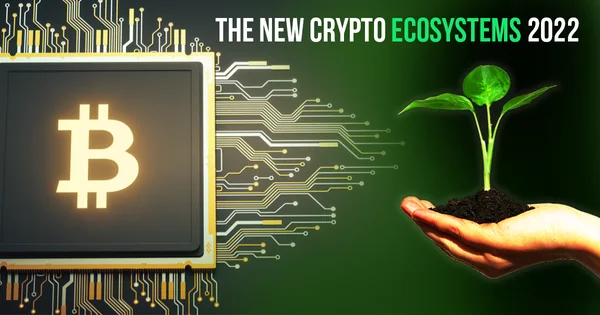 Crypto payments have been changing the ways of transactions in daily lives. They have now come forward as payment methods from being just a way of investment. And the future speculates several new developments in business industries and everyday lives due to such new crypto ecosystems. In 2022, there will be several new and more advanced crypto ecosystems. This blog discusses the fundamentals and types of crypto ecosystems in 2022.
What is a crypto ecosystem?
A Crypto ecosystem is a way of creating and building blockchain projects for a targeted purpose. We are currently seeing several such projects like different kinds of coins, value transfer, data transfer, etc. A crypto ecosystem can be defined as a group of several technological components of the crypto industry. All these components come together and work in an optimized manner while interacting. However, every element also has its importance and function to execute. Moreover, the system can be monitored by different structures like finance, ownership, etc.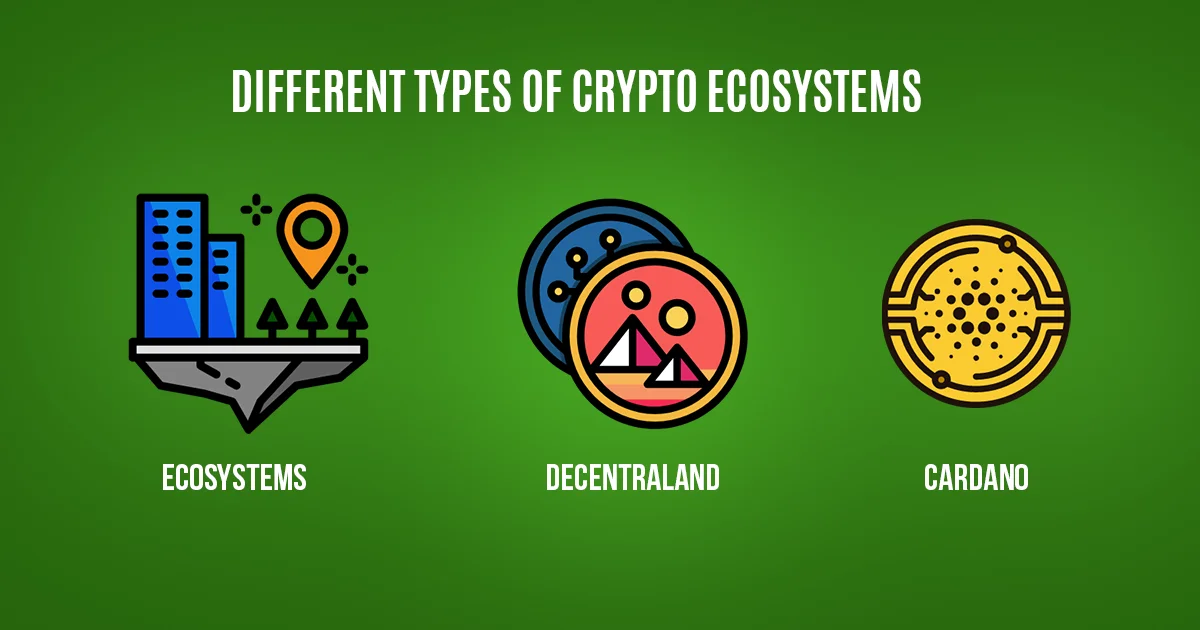 Different types of crypto ecosystems
In recent times, you can find several mid-ranges developed to highly developed ecosystems related to crypto. Moreover, sellers, businesses, shopkeepers, etc., have also integrated small units of such ecosystems in their operations through accepting crypto payments or channelizing crypto payment processors. Now let's discuss some of the essential crypto ecosystems of current times.
Decentraland
It is a type of ecosystem where people can create their avatars and interact with other people. The crypto ecosystem aims to create its digital world. Users can live digitally in the ecosystem through their avatars and characters. They can also execute the normal functions of life in the ecosystem. It also allows the users to purchase land and various other ecosystem resources. Some of those resources are like Decentraland's token called MANA. Users can purchase those tokens through real money or by making crypto payments. Later they can trade by using MANA in the ecosystem. Decentraland is an advanced game. However, it has also integrated several crypto coins and financial tools. The stakeholders of MANA and other community members have their network in the journey of Metaverse.
Cardano
This ecosystem has been created by incorporating evidence-dependent methods and a Proof of Stake type of Blockchain structure. It is also the first crypto ecosystem that has incorporated the Ouroboros protocol. The network comprises three central values: safety, interoperability, and scalability. The Ouroboros protocol implementation was also done to accomplish these goals. The blockchain structure of Cardano is based on 3rd generation type of Blockchain. Cardano has developed several projects that have found uses in the industries like Atala SCAn, Atala PRISM, etc. These products have provided solid solutions for several industrial problems with severe loss implications before. The native currency of Cardano is called $Ada. The network allows several forms of transactional operations inside it. All such transactions can be done by using the native currency of the ecosystem.
This ecosystem is 3rd generation ecosystem; that's why it has resolved the issues of 2nd generation and 1st generation ecosystems. For instance, the first-generation ecosystem is Bitcoin. Similarly, the second-generation ecosystem is Ethereum. Cardano has resolved several issues found in these ecosystems, which is why it is more advanced. However, as cryptocurrency is a very technology, its spread has been slow. Therefore, even after their better alternative, the first generation and second-generation ecosystems are still in the game with a solid grasp on the market. Moreover, first-generation, and second-generation ecosystems are much more easily accessible because businesses have prior training.
Abracadabra. money
It is a blockchain ecosystem that has its SPELL token. The growth of the SPELL token has been tremendous in just the last six months. The main reason behind this growth is their aim to create a wholly decentralized ecosystem that offers complete transparency. They also want it to be backed by stablecoin assets. You will be amazed to know that SPELL's value has grown by 1500% since 2021. Also, the stablecoin of this ecosystem is known as Magic Internet Money [MIM]. It has become the 6th largest stablecoin even in less than 12 months. This stablecoin has full collateralized support backing. DeFi technology applications sanction it. Right now, the developers of Abracadabra.money aim to increase the horizons of the ecosystem. Their main aim is to bring it into the mainstream payment and ecosystem industry. They have also implemented Sushiswap support in the ecosystem. It was possible after they collaborated with Binance Smart Chain along with Fantom.
Tikka Token
This ecosystem is supported by Polygon, which is another robust ecosystem structured by WAT. Currently, TIKKA is becoming very famous in the crypto industry. Primarily, TIKKA is a Wealth Access Token structured upon Ethereum ERC-20. The main aim of this token is to advance the financial management and evolution of a regular ordinary investor.
Cube Wealth gave birth to TIKKA. It is one of the most famous and established fintech companies in India. The token evolved with a basic set of Polygon. The reason to choose Polygon was its scalability. Polygon offers good scaling scope, making the token highly compatible and versatile. Also, it helps in creating a stable ecosystem that garners a vast user base. TIKKA has incorporated several NFTs, virtual goods, digital financial tools, etc., on its platform. Also, TIKKA provides less time-consuming facilities that fascinate a lot of users because currently, all other crypto ecosystems come with long time-consuming developments that require high involvement of the user.
Conclusion
These are some of the most famous crypto ecosystems of the industry that have arisen in 2022. These new ecosystems have brought several solutions for existing issues of the crypto ecosystems. However, there is still a long way to go for two reasons. First, businesses still have little knowledge and training regarding these crypto ecosystems. Second, these ecosystems are still in their primitive stage, and that's why businesses are skeptical about their volatility. However, the future relies on the hands of crypto payments and ecosystems because they provide a new outlook to the current finance industry.