Why should you accept USDT for your business?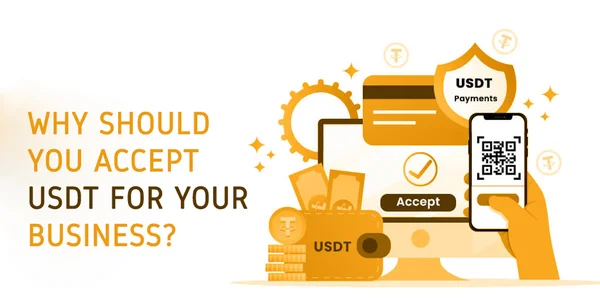 Cryptocurrency, especially USDT, has always been the hot talk of the global financial domain. From investors to entrepreneurs and bigshot businesses, everyone is interested in cryptocurrency trends. Directly or indirectly, it is affecting businesses and their customers' mindsets. Cryptocurrency is being seen as the dawn of a new financial revolution. This is why several businesses are incorporating crypto payment gateways for their customers. USDT is one of the most beneficial cryptocurrencies to accept business payments. For instance, it is one of the most convenient ways of making international payments. In this blog, we will discuss what are USDT crypto payments and their benefits.
What is USDT?
The USDT came into existence in 2014. USDT comes from the category of stablecoin and it is known to be the first-ever stablecoin. Now the question arises how is USDT going to stabilize the valuation? USDT aims to do that by using the backing of fiat currencies [US dollar].
USDT stands for USD Tether. It is the 3rd largest digital currency globally as per its market value, after Bitcoin and Ethereum. This shows the increasing influence of USDT on the digital currency industry. That's why many people are inclined toward using USDT as a regular payment mode. This also creates a demand in front of businesses to incorporate USDT crypto payment gateways for their customers.
Benefits of USDT for your Business
Businesses accepting crypto payments through USDT enjoy several benefits. It helps execute faster transactions, provides a better way of storing digital money, and offers vast integration. Additionally, it also secures ways of making transactions for the business and the user. As a result, the organization's credibility increases in the eyes of the customer. This also helps in building a good brand image. Let's study all the advantages of USDT crypto payments for businesses.
A reliable method to store digital wealth
When it's to crypto payments, the primary concern of businesses is regarding the volatility of the currency—the unpredictable nature of cryptocurrency associates businesses with high risk. However, with USDT, this risk decreases in multi-folds. USDT is a semi-decentralized digital currency. So a business can utilize all the advantages of crypto payments while also defying the volatility. That's why USDT comes as the best way of accepting crypto payments for businesses and storing their digital wealth.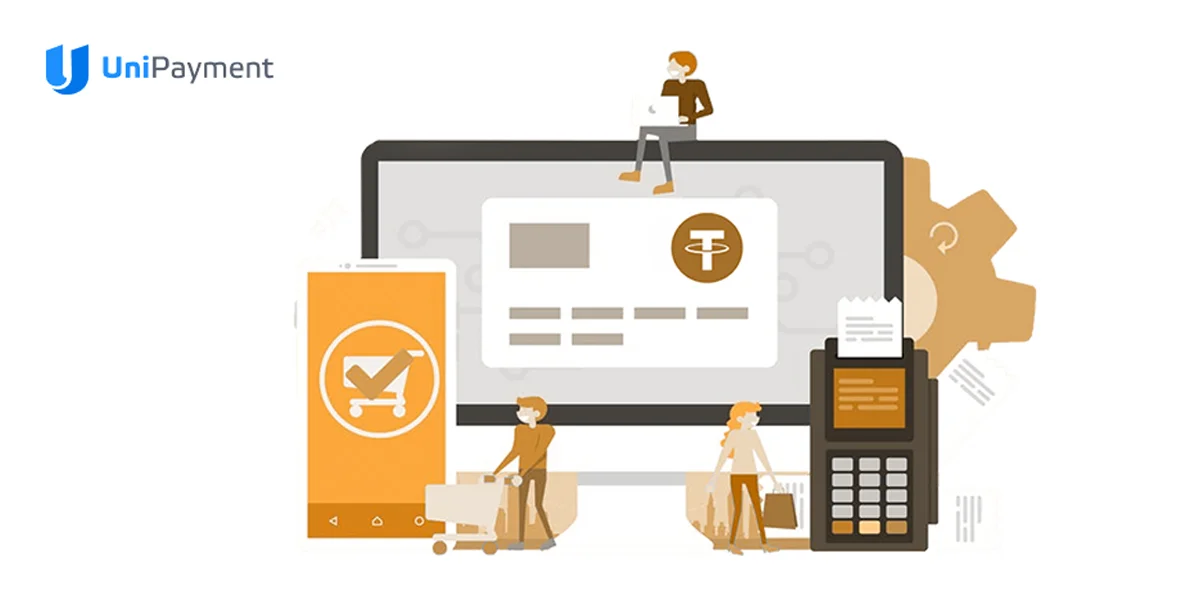 Vast integration
USDT has successfully gained the trust of exchanges and a large number of service providers. It is because the company showed proof of reserve for the cryptocurrency. That's why traders, crypto companies, exchanges, etc., have been integrated with USDT crypto payment. As a result, the USDT offers vast access to the cryptocurrency domain. Such vast integration helps businesses streamline transactions without any hindrance from exchanges or traders.
Highly secure transaction facilities
USDT provides credibility when it comes to security in transactions and crypto-wallets. This factor especially helps small businesses to conduct international transactions without fear of a breach. Furthermore, it is also beneficial for the customers, which will increase the overall purchasing experience benefitting the business's image.
Helps in targeting the international customer base
Fiat currency transactions internationally go through several barriers. This results in a time-consuming and resource-consuming process for businesses. Also, it limits their international reach. However, with USDT crypto payment gateways, businesses can accept international transactions directly. The amount of digital money doesn't require going through several stages of exchanges and charges. This helps businesses to expand their services even for international customers.
Low transaction fees
Businesses need to pay high transaction fees on every payment made by customers. Businesses offer credit card payment facilities to their customers. They are also required to pay charges for it to the concerned bank. Suppose a customer returns a product after making a credit card purchase, then the business still needs to pay the swipe transaction charges. However, the company got no sales. This is especially pocket draining for small businesses.
Similarly, if international payment is involved, then the Forex conversion charges are even higher. However, with USDT crypto payments, businesses don't need to pay high transaction fees as it is free of any charges. Therefore, businesses can quickly welcome international payments with USDT without worrying about transaction charges which can go as high as 7% of the amount on fiat currency.
Fast transaction
Regular bank functions like depositing, withdrawal, etc., take days to complete. However, in today's fast world, this slow transaction mechanism reduces the rate of productivity for businesses. Therefore, a fast and efficient payment mode is crucial for increasing sales and enhancing customer satisfaction. That's why crypto payments through USDT come as the most efficient option. They offer fast and streamlined payment options for the customers. Therefore, it helps businesses manage their financial flow better and directly impacts the growth of the business.
Where can you pay with USDT?
As mentioned above, several top-tier companies are showing interest in accepting USDT crypto payments from their customers. Let's have a look at the top companies who are already using crypto payment gateways for USDT;
TIME Magazine
Snel.com
Travala.com
Alternative Airlines
Time
Paxful
Vertis Aviation
Kiklabb
STAX
Conclusion
USDT has incorporated more than $60 billion into the securing process. This shows the growing popularity of USDT among investors, entrepreneurs, and even ordinary people. That's why it offers vast opportunities for businesses. Several top companies have already seen the scope of vast growth in USDT crypto payments like STAX, Paxful, etc. Incorporating USDT crypto payments gateways offer a fast, streamlined, low-risk method of transactions. It reduces the transaction fee and offers better resource optimization, especially for small businesses. USDT crypto payments help tap the potential customer bases, which are not possible with fiat transactions. Also, incorporating USDT crypto payments is very easy and it's straightforward to use. This spares no reason you should not start accepting USDT crypto payments in your business.